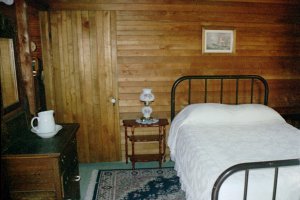 The left front bedroom opens to the area of the porch with the wicker seating arrangements. The bedroom opening onto the front porch is a typical feature of early 20th century lake architecture. Benefits include greater air circulation for warm nights and the privacy of entering or leaving the bedroom without going through the great room. A full size bed, dresser, fan and closet provide the comfort of lake living.
The right front bedroom is similarly furnished and also opens onto the front porch, shown here looking in from the eating area on the front porch.
The back bedroom doubles as a TV room, with the 2 single beds arranged as couches along the walls opposite the TV.
The other back bedroom features another full size bed, dresser, fan and closet.